FLYNBYE performance
04-07-2018, 04:33 PM
Member
Join Date: Jul 1999
Location: Ponchatoula La 70454
Posts: 136
Re: FLYNBYE performance
---
Guys I just wanted to update you that I got an email that the brackets are on the way. I certainly didn't mean to stir anything up and Flynbye seems to be a stand up company. Just a little slow on the shipping and communication.


04-07-2018, 11:02 PM
Re: FLYNBYE performance
---
No sweat.
The only one to really blame for any debate is FlyNBye. They could step up the service and avoid a lot of bad publicity. Your experience mirrors mine, slow, but in the end Ed comes through.
04-10-2018, 06:16 AM
Senior Member
Join Date: Dec 2002
Posts: 990
04-10-2018, 06:34 AM
Senior Member
Join Date: Dec 2002
Posts: 990
Re: FLYNBYE performance
---
Originally Posted by
Drew
Kind of seems like there's only one person really crying about the service. Yes, if you bother to look, even a little bit, you know what you're getting into before you place your order. If you need something
RIGHT NOW
don't depend on FLYNBYE. Whining about it and calling everyone who orders from Ed "a special kind of stupid", and getting butt-hurt when someone says "STFU", takes "a special kind of stupid".
It is what it is, you're not going to change it. Either take your chances, find an alternative, or live without.
Do a search. You will find a lot more threads than just one person. Taking chances? You make no sense. It's your money, your buying parts. This isn't the casino. You don't pull a lever and hope parts show up. What is wrong with people? Drew, if you want to call me out, then do it. Don't beat around the Bush. When it happens to you, weather it's from Flynbye or another vendor,you will be the first one here complaining. Others have had issue, dont discount that. Here's another Flynbye thread your defending him in. Mirrors this one.
https://www.thirdgen.org/forums/afte...grade-com.html
---
Last edited by IROCZ1989; 04-10-2018 at

06:52 AM

.
04-10-2018, 08:22 AM
Supreme Member
Join Date: Sep 1999
Location: NJ
Posts: 2,577
Re: FLYNBYE performance
---
I think you should be banned for continuing to open you mouth and spew crap
Ed isn't my friend BTW, like Drew said, he makes some stuff no one else does.
04-10-2018, 10:56 AM
Re: FLYNBYE performance
---
How ironic that you'd link to another thread, where someone else just didn't get it, and was so unable to get along with others that he eventually got himself banned from the forum.
Funny you "did a search", but missed the thread from a little over a year ago when I last ordered from FlynBye. Two weeks after nothing more than a dead tracking number and no replies to contact attempts... Still wasn't crying about the big meanie service.
https://www.thirdgen.org/forums/brak...ake-parts.html
I'm not calling anyone out man. You're the retard whipping your shirt off and hollering "Come at me bro", calling folks stupid for not sharing your narrow point of view, and escalating the issue when things don't go your way. You're calling yourself out.
06-13-2018, 02:54 PM
Re: FLYNBYE performance
---
Just want to follow up and share another Flynbye experience. Since I am a believer in putting my money where my mouth is...
On 5/18/18 I ordered a set of drum to disc conversion brackets. On 6/2 I got a shipping notice that postage was printed. Today 6/13/18 I received the parts in the mail.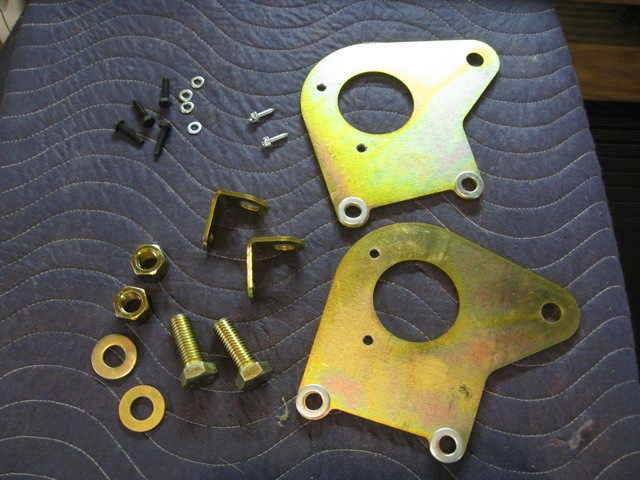 Might possibly be missing a couple of pieces, as the website photo shows what looks to be brackets for anchoring the brake lines/hoses. I've got an email off to Ed about that, but it's not a big deal. I'm sure not dying to have the parts ASAP, the car is still in body/paint jail.
Anyway, the point is that if you are in need, and patient, Ed
DOES
come through, he's just not going to win any races against Amazon. I've had firearms parts on backorder with Brownells since before I ordered from Flynbye, that still haven't shown up. It's not completely out of line for hard to find, limited availability specialty items to take longer. So FWIW...
06-15-2018, 06:50 PM
Senior Member
Join Date: May 2008
Location: pawtucket RI
Posts: 831
Re: FLYNBYE performance
---
i"ve dealt with Ed before needed conversions plates for my 9inch to PBR brakes he was the only one that made them didn't wait to long i think this was before the problems but he sent the wrong brackets called him back and he apologized and sent the correct ones in a couple days
09-07-2018, 10:35 AM
Moderator
Join Date: Feb 2001
Location: JAMESTOWN, NC
Posts: 6,608
Re: FLYNBYE performance
---
Bought LS1 front brakes years ago with no issues. Just paid for that same conversion kit Drew bought.....we will see. I expect no issues.

EDIT*** -order was acknowledged and parts had shipped within 2 days. Part arrived 2 days later.
---
Last edited by Abubaca; 09-14-2018 at

11:55 AM

.
Thread
Thread Starter
Forum
Replies
Last Post
Auto Detailing and Appearance