New to TBI? CHECK THIS OUT!! *UPDATED*
03-05-2004, 02:48 AM
Supreme Member
Join Date: Apr 2003
Location: Tempe, Arizona
Posts: 2,070
Car: 96 Silverado/99 Suburban
Engine: 700 cubic inches of 'Muican Awesome
Transmission: 4L80/4L60
Axle/Gears: Chunky/Clunky
New to TBI? CHECK THIS OUT!!!
---
Hey everyone! This thread is dedicated to everyone out there who is new to the world of Throttle Body Injection and are interested in taking your car to new levels. (Then again, who isn't?!
) I'd like to thank ShiftyCapone for compiling all this great info for us. He's done a LOT of work on this thread to make everyone's life a little bit easier. Hopefully this information will not only answer any questions you have, but also possibly teach you something you didn't even think you needed to know! Good luck on your projects, and have fun!!!
If you have any questions or believe something should be added to this, please feel free to send us a private message!
Thirdgen.Org and all of it's Administrators/Moderators will not be held responsible for anything you do in relation to your car. If you do decide to follow any of the suggestions in this thread, you do so on your own will. Please make sure you take all the necessary saftey precausions to avoid any personal injury or damage. Thank You, Be Safe, and HAVE FUN!
---
Last edited by dimented24x7; 05-14-2007 at

10:12 PM

.
03-05-2004, 08:33 AM
Supporter/Moderator
Join Date: Feb 2001
Location: Cincinnati, OH
Posts: 11,648
Car: '90 RS
Engine: 377 LSX
Transmission: Magnum T56
General TBI FAQ
---
These questions and answers are in no particular order but will help you understand what your 305 TBI is capable with and what mods work best.

What are the specs on the 305TBI and how much power does it make?

The 305 TBI (LO3) came stock with 170hp and 255lb ft of torque. It has a 3.735" bore with a 3.48" stroke. It is a roller block with hydraulic roller cam and lifters.

Can a 305 be turned into a 350?

No. Although the blocks for the most part are the same externally they are not same internally. The 350 has a 4.00" bore and 3.48" stroke. The 350 can be bored .030", .040" and sometimes .060". The roller 305 can only be safely bored .030" because of the close proximity of the water jackets to the cylinder wall lining.

What other GM vehicles came with a TBI engine?

The TBI engine was used in pickup trucks in 5.0 and 5.7 liter versions. Most but not all were non roller blocks with similar power numbers to the LO3. Another TBI motor found in trucks was the 7.4 liter 454 TBI. This was a big block engine but its throttle body can be implemented onto your small block set-up. The TBI motor also came in a 350 version in Chevrolet Caprice Classics. This was the LO5 motor and was roller motor like the LO3 with around 205hp. The vast majority of 89-93 caprices came with the L03. Same one that's found in some 3rd gens. Except the airbox is of a different design. Also, the 9C1 L05 went from 190hp in 89 and 90, to 195hp in 91 and finally 205hp in 92-93. Also, the 4.3L TBI V6 (LB4 I believe) was used in some 85-90 caprices, fewer in 91-93s. This engine uses the same Rochester 220 TBI unit as the 305 and 350. TBI engines were used in a multitude of GM vehicles but the ones mentioned here closely resemble the LO3.
---
Last edited by ShiftyCapone; 03-08-2004 at

09:41 PM

.
03-05-2004, 08:34 AM
Supporter/Moderator
Join Date: Feb 2001
Location: Cincinnati, OH
Posts: 11,648
Car: '90 RS
Engine: 377 LSX
Transmission: Magnum T56
Any question that you could have about modding your 305
---
What should be the first thing I do to my 305 TBI?
The first thing you should do to your car is to make sure it has a full tune up and is in proper running condition. This means replacement of the spark plugs and wires along with a new distributor cap, and rotor. These cars tend to build up a lot of mileage over the years and are neglected from regular maintenance. The TBI unit should also be cleaned thoroughly. This requires taking it off and cleaning all of the small passages that run along the bottom side of it. Cleaning the PVC valve is also crucial. You will also want to check your serpentine belt and coolant hoses. They get old and crack and break down over time and this would be a good time to replace them. Finally, you will want to check your timing. The factory setting says to but it at 0* but most stock LO3's like a bit more. This is a trial and error procedure and you will find that most LO3's prefer anywhere from 4* to 8* advanced. Some like more and some like less and a little timing bump can increase fuel mileage, throttle response, and power. You may have to run a higher octane fuel though so you will have to consider that. After the car has received a full tune up you can start to consider your first modifications.
Great thread with details instructions to set your timing
Tech Article to adjust your timing
Great thread with picture on how to get the degree of timing you want
Here is a pic of the proper vacuum line routing and identification on your TBI unit.
Will using a higher octane add power?
No. If your 305 TBI is stock and is running the stock base timing setting of 0* advanced than there is no need to run higher than 87. Advancing your base timing to 6* or 8* will in most cases require you to run 89 or 92. Even with 0* base you could possibly still hear knock. This could be caused by excess carbon deposits that are creating detonation usually found in high mileage motors. Higher octanes are for engines that are running high compression ratios or extreem advanced timing curves. Running higher ocatane than is needed for your application will not clean you engine or add power to it. In some cases it may actually decrease power because of an incomplete burn.
Now that it has a tune up where areas should I start to mod?
An extremely popular first mod is removing the stock air intake snorkel assembly and replacing it with an open air element or dual snorkel unit found on some earlier 3rd gens. A flat base air cleaner, called a non-drop base, is the best route to go here. This open element will sit flat on top of your TBI unit and allow you to remove the gold spacer ring that surrounds the perimeter of the top of your TBI unit. It will also clear your distributor. Another option is the drop base air cleaner. This unit does not sit flat and instead has a cone shape to it that engulfs the TBI unit and requires you to retain the gold spacer ring. This unit is not preferred because of distributor interference. This can be eliminated with the use of a TBI spacer that I will cover later. Before you look into serious mods like heads and a cam you need to address the other weak points of the car. The stock fuel pump will not be able to effectively support the power your motor will make with a new cam and heads. Also, a full exhaust from headers back should be installed as the first major mod to take the full advantage of future mods. Last but not least you will want to strongly look at burning your own chips. This will be the key to getting the most power and drivability out of any of the mods you add to your LO3. There subjects are covered in further detail down the page.
Install guide 1
Install guide 2
Great thread on open elements, highlights some precautions
Modified TPI CAI for TBI
Basic search results for all kinds of open element related stuff
How do I do the ultimate TBI mods and are they worth it?
There are two great tech articles on how to do this and they are pretty straight forward once you have a grinder and TBI unit in your hands. It is another trick to get every last CFM of air into the stock TBI. Flow tests have shown that a TBI unit with this modification that flow up to 5% more air. This added flow will help at higher RMP's.
Ultimate TBI mods 1
Ultimate TBI mods 2
Thread with pics and good info
Board member NEEDforSPEED's pics of his ultimate TBI
What is chip burning and is it necessary?
You will find that the biggest gains on these cars will come from burning your own chips. The stock chip is very weak and can barely support the factory set-up. Anytime you mod your car you should look into burning a new chip to maximize its potential. You can get away with the stock chip with basic bolt-ons, but once you add a cam chip burning is a must. This will be stressed the most out of any of these mods. The sooner you learn what it takes to burn a new chip the better you will be able to make all of your new mods work in harmony. A heads and cam LO3 will run slower with the stock tune! A rule of thumb is to stay away from those off the shelf stage1 and stage 2 chips. They do not really do much and just add a bit of timing. Some of them can actually make your car run lean. If you just cannot burn your chips are on a strict budget but have to have a custom tune there is another option. You will see many people refereeing to data logging. What this is is a free software program that you install on a laptop computer and use a special connector to plug the laptop into your cars diagnostic (ALDL) port. Driving the car while this software is running will collect lots of data points. These points will tell you what you engine is doing at every rpm from timing to fuel. You can save this data and send it to a couple of different places that will burn you a chip based on the info you sent them. You can find this program from the following link.
Link to data log software
Good starting post for TBI prom tuning
How much power can my stock fuel pump support?
The answer to this is not much. A stock pump can support a full exhaust, intake mods (manifold and air cleaner) and a very mild cam. One you have all of these mods and you go with a nice set of heads or decently sized cam the stock pump will not be able to deliver the necessary PSI at wide open engine load. A high flow unit will supply enough power to your TBI system no matter what mods you go with. Popular choices include, stock GM TPI pumps, Walbro 190lph and 255lph, and the Holley 255lph. Each of these pumps can support gobs of power but will work safely with your TBI set-up because your fuel pressure regulator will keep the fuel entering into your TBI unit where it needs to be.
What is an adjustable fuel pressure regulator, who makes them, and are they worth it?
A fuel pressure regulator does just as it sounds. It limits the amount of fuel that enters into your injector pod. There is no set value that came from the factory and some cars came with 12psi and others 15psi. Addition of mods may require you to adjust the fuel pressure a bit to allow more fuel in. If you have read the ultimate TBI mods tech articles you will see that you can make the stock one adjustable. There are also a few aftermarket units that you can buy. Jet makes a unit that can be adjusted for a constant pressure over every RPM point. If you want one that varies with RPM you will need to look into the GM vacuum adjustable regulator. This regulator changes based on a vacuum source and will rise as RPM does. It is still adjustable so that you can tune down the pressure at idle to avoid running rich, yet have enough pressure at wide open throttle to avoid going lean. It is a neat unit and seems to work fairly well with the stock chip. All other fuel pressure changes need to be programmed into the chip. Some people can get away with the stock chip when they go with a mild cam because they adjust their fuel pressure and bump the timing up a bit.
Here is a pic of the GM vacuum adjustable unit with the vacuum delay valve.
Jet regulator
What is my smog pump and can I remove it
Your smog pump (AIR pump) is simply what it sounds like. It is a pump that sends air to your cat via a little round tube. This helps complete the combustion of residual exhaust gasses in your catalytic converter along with quickly heating up your cat during cold starts. It is located on the lower side of your accessory bracket right underneath the AC compressor on the passenger side of your car. It has an upper and lower bolt that attaches it to the bracket. These bolts can be removed and your smog pump will come right out. Check out these links to help you properly remove and identify your smog pump and AIR system.
Smog Pump removal tech article
Thread that has pictures identifying the AIR system components
Here is what your smog pump looks like with the pulley removed
Here is a pic of the whole system
What is a good exhaust for my car and will too big of a system take away low end power?
I have only added this in to encourage you to search in the exhaust board. A 3" exhaust will not decrease low end power at all. Also, you want to decrease back pressure as much as possible. Many people get this confused with scavenging. A full exhaust from headers, high flow cat, and cat-back really wake these cars up. The sock exhaust is horrendously restrictive and only utilizes 2 1/4" pipe. For a 305 TBI you will want to keep header primary size between 1 1/2" and 1 5/8". Exhaust systems for 3rd gens are for the most part universal and can be used on any V8 motor that was available with these cars. The only differences between these kits are the addition of reducers for 3" systems to be mated to stock TBI piping (cat and y-pipe). A little reading in the exhaust board should help you make an informed decision.
---
Last edited by 90RS305; 12-22-2004 at

01:21 AM

.
03-15-2004, 06:16 PM
Supporter/Moderator
Join Date: Feb 2001
Location: Cincinnati, OH
Posts: 11,648
Car: '90 RS
Engine: 377 LSX
Transmission: Magnum T56
What aftermarket TBI units are out there and should I consider that as a first mod?
You really want to wait until you upgrade your TBI unit because the stock one can support every bolt on minus heads and cam. There are two commonly used 2 barrel units out there that people use. There is the Holley 670 TBI and there is the stock GM 454 TBI unit found on all 454 big block TBI trucks. Both have 2" bores as compared to the stock 1 11/16" bores. In addition to bore size both come with larger injectors that can support more power than the stock ones. These are not direct bolt on units and require some sensor modification as well as a manifold that has an inlet to support 2" bores.
Info on the Holley 670 TBI
454 IAC wiring
Holley 670 TBI unit
What is a TBI spacer and does it add power?
A TBI spacer is just what it sounds like. It is a piece of plastic, wood, phonelic resin, or aluminum that bolts in between the TBI unit and intake manifold. It helps increase the intake manifold plenum size and is supposed to add power. It also acts as a thermal insulator between the TBI unit and intake manifold. Resin and plastic materials will be more effective than aluminum and will not conduct as much heat into the TBI unit. Whether they add power or not has yet to be dyno proven but I did not feel anything when I installed one on my car. The only purpose I bought one was to raise my drop based air cleaner off of my distributor. A TBI spacer usually requires a little tweaking of the throttle brackets and TV cables (for auto cars only) to keep it from pulling the throttle open. They are expensive and not worth the hassle for little to no power increase as well as a potentially difficult mod for a first time modder.
Here is a pic of my Turbo City resin siamesed .5" TBI spacer. This spacer has been bored to 2" but comes with 1 11/16" bores.
What is an injector spacer and do they add power?
An injector spacer works the same way a TBI spacer except that it lifts the injector pod up off the TBI unit. This helps un-shroud the TBI inlet bores and lets a little more air into the TBI unit. They can be found on ebay and are also sold by Jegs and summit.
Jegs TBI fuel injector spacer $20 555-15410
What TBI intake manifolds are available for my car?
There are 3 aftermarket TBI intake manifolds that are out on the market today. Holley makes one that has 2" bores but requires you to use an older style EGR. GM performance parts make one that also has 2" bores but is designed to be used with vortec heads. They will not work with non vortec heads. The only real bolt-on without any modification is the Edelbrock Performer TBI intake. It is a direct bolt-on and all of your stock stuff can be transferred over to it without a hitch. Its only downfall is that it uses the stock size inlet bores that don't allow you to use a larger TBI unit as previously mentioned. This problem can be remedied and the intake can be bored to accept 2" TBI units. The last option is to use an intake design to work with a carb and use a TBI adapter plate. Many people go this route and have a tremendous amount of success. TBI manifolds found on B-body cars are different all together. They have larger distributor holes so that the distributor can be removed without interfering with the cowl. To use one of these aftermarket intakes on a B-body would require some modification.
This is a great collection of threads that deals with intake options
Boring the Edelbrock Performer TBI intake to 2"
This is the Edelbrock TBI intake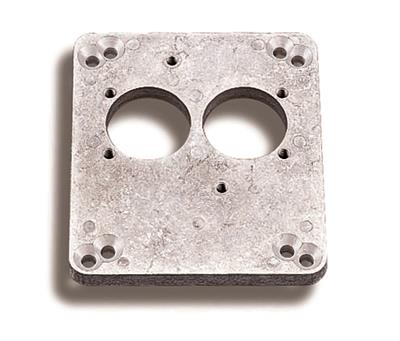 Here is the
Holley adapter
plate that will allow you to use a carb intake
Turbo City adapter plate
What is a good cam for my car?
There an endless amount of cams that can be used for your 305 but the most popular ones are the gm production LT1 cams out of f-bodies, corvettes, and b-bodies, and the L98 (350 TPI) cam. It is ok to go with a used roller cam and any of these cams can be found in the classified sections of multiple sites or on Ebay. They are offer purchased for under $50 and have great specs that are chip burning friendly. If you are going to retain your stock head than you need to keep a cam under .470" lift (you can go as high as .480" with proper measurement) to stay within the limits of the stock heads. You also want a cam with an LSA (lobe separation) between 111* and 115*. This type of duration is found on most fuel injection cams and is a must as far as tuning goes. Don't forget, you need to use a hydraulic roller cam for all 88 thru 92 305 TBI's.
LT1 cam info
LT1/LT4 cam identification
What cylinder heads can I use on my car?
There are a few choices that you can go with. A popular set of heads are those found on 305 TPI cars. They are far superior to the swirl port style of the stock heads, and have the same combustion chamber size as your stock heads. There are two different castings look for. There are the 081 heads that are found on all 1987 and later 305 TPI cars and then there are the 416's that are found on pre 1987 305 TPI and LG4 cars. The 081's are a direct bolt on but the 416's require some mods. You will have to convert the valvetrain to match the self aligning set-up on your stock heads and you will also have to use a pre 1986 intake manifold or modify the 4 center holes on your current intake. Another set is the World Products SR Torquer 305 heads. These heads have larger than stock valves, the same combustion chamber as stock, and provisions to accept cams up to .525" lift. These are only the basics to using any of these heads. The 081 and 416 heads are still lift limited and would need to be machined to accept higher lift cams. They can usually be found in junk yards for under $100 and can be real performers when ported. The SR's can be found at Jeg's or Summit and retail for around $700 a set.
Vortec cylinder heads are also an option for L03's, but the intake pattern is different from pre and post 87 intake patterns. There are two options. Many aftermarket companies offer 4bbl intakes with Vortec patterns and you can simply adapt the TBI with an adaptor plate; either purchased from Holley or you can make your own. The other option is to get your intake drilled for the Vortec pattern. Another issue to tackle is the lack of EGR, which you can just run external plumbing or burn a chip without EGR, if you live in an area with no emissions requirements. Also the L31 Vortecs use advertised 64cc chambers (although most measure 61cc) and stock L03's use 58cc chambers. You can shave the Vortecs down to 60cc and still have their raised runners effective on the incoming air/fuel mixture. Vortecs have a lot of technology worked into their castings that you will benefit from even in unported form.
Another popular swap is the 86-91 Vette aluminum heads. They haven't been as popular as they were a couple years back. They feature angle plugs for better combustion and aluminum for weight savings. Their runners are similar in design to the 083 castings. The only disadvantages are the lack of EGR (Vettes used external plumbing) and aluminum loses compression in comparison to iron; that's why they used 58cc chambers on a 350 which would normally use 64cc chambers in iron heads. To be optimized the heads should be shaved to 52-55cc chambers. Using a thinner gasket is always an option, but doesn't always make up for shaving.
Thread discussion on 305 Vortec TBI
Recently new light has been shed on the 350 (193's) swirl ports heads and flow numbers that accompany them through port work. When ported these heads can provide decent low lift flow numbers and in turn can support pretty stout power on low RPM motors. However, the jury is still out on the 187 (stock LO3) castings but the design of the two almost mirror each other. It appears that these heads can be used with success if one takes the time to port them. Without port work these heads just don't flow very well.
The following threads go into detail about ported 193 head castings.
Garage ported 193's
Another 305 vortec head discussion thread
Please refer to the following thread for a better understanding of how and why swirl port heads were used.
Swirl port heads and why they need to go
Here is a pic of the swirl port desing of the LO3 head.
---
Last edited by ShiftyCapone; 04-26-2005 at

06:10 PM

.
06-03-2004, 03:35 AM
Supreme Member
Join Date: Apr 2003
Location: Tempe, Arizona
Posts: 2,070
Car: 96 Silverado/99 Suburban
Engine: 700 cubic inches of 'Muican Awesome
Transmission: 4L80/4L60
Axle/Gears: Chunky/Clunky
---
Last edited by 90RS305; 08-03-2004 at

04:36 AM

.
08-09-2004, 01:32 AM
Moderator
Join Date: Jan 2002
Location: Moorestown, NJ
Posts: 9,962
Car: 88 Camaro SC
Engine: SFI'd 350
Transmission: TKO 500
Axle/Gears: 9-bolt w/ 3.23's
Im going to add some more info here. There seems to be topics which come up again and again every so often. Ill post some info on them here.
I have to adjust/reset my IAC, how can I do this?
The IAC is not adjustable. The IAC is reset upon each shutdown of the ecm so it can ensure that the IAC will be at a known location. After which, the ecm parks the TBI.
In addition to this, I want to clean my IAC. How can I do this?
1). Remove the IAC. It can be found on the pass side of the tbi. See the link below for an expanded view of the IAC...
http://216.121.161.76/files/TBI220.jpg
[Thanks Vader!]
2). After you have done so, reconnect the IAC connector and place a bag or towel around the IAC so the pintle doest go flying off. Once this is done, jumper pins 'A' + 'B' in the ALDL connector. Once jumpered, turn the key to the ON position, but dont start the car. The ecm will eject the IAC pintle. Turn off the ignition and remove the IAC and its compontents.
3). Next step is to clean the parts. I like using lighterfluid or naphtha. Cleans and leaves no unpleasent odor once it evaporates.
NEVER use harsh solvents or dip in/spray the IAC with cleaners!!!
It may be damaged! Use a toothbrush to remove all the carbon deposits from the guide, spring, and the threads on the pintle shaft. Once dry lightly coat the pintle shaft and guide with a light grease or oil.
4). Reassemble. Place the spring over the pintle and place the pintle shaft in the guide slot in the IAC. It wont jsut go in as there is an armature with gear teeth on it. Screw the IAC pintle in untill the guide slots on the pintle shaft just meet up with the guides in the IAC main body. From there
gently
rock the IAC pintle back and fourth while applying light pressure untill the pintle gets partially back into the IAC.
5.) Reinstall the IAC. Screw it in by hand and if you feel any sort of resistance,
STOP!!!
The pintle has bottomed out. Reconnect the IAC and pull the jumper out of the ALDL if you have not yet done so. Lightly depress the gas pedal and start the car. Let it run for about 30 secs and shut down. Do the following to tighten the IAC:
As posted by Vader:
You can use a wrench, but remember that the torque specification for an IAC is 13 ft/lb for '85-'89 , 30 in/lb for 1990-on, or not very much torque at all. Hand tight and about 1/16 additional turn is about all that's necessary.
And your done! The vehicle is ready for use. I do this every 6000 miles or so to keep the IAC clean and moving freely. This is a good idea as a sticky IAC will cause delayed responces to the ECMs commands.
---
Last edited by dimented24x7; 10-27-2004 at

08:58 PM

.
08-09-2004, 01:40 AM
Moderator
Join Date: Jan 2002
Location: Moorestown, NJ
Posts: 9,962
Car: 88 Camaro SC
Engine: SFI'd 350
Transmission: TKO 500
Axle/Gears: 9-bolt w/ 3.23's
How do I adjust my TPS?

Some model years have TPS' that are adjustable. But, some dont and there is a reason for this...

The ECM obtains a base reading for the tps and uses this to construct a % TPS term. As such, the TPS never really needs ajusting in the first place as the ecm can auto-calibrate when needed. There are two torx bits on the TPS. Loosen these, slightly rotate the tps, and using a scan tool or winALDL try to get the volts around .65 volts or so with the throttle completly closed. Retighten and verify the tps hasnt moved. The check can also be done with a volt meter but winALDL or similar items are easier to use as opposed to jamming needles into the back of the tps connector to get voltage readings from the pins.
---
Last edited by dimented24x7; 08-09-2004 at

02:09 AM

.
08-09-2004, 01:52 AM
Moderator
Join Date: Jan 2002
Location: Moorestown, NJ
Posts: 9,962
Car: 88 Camaro SC
Engine: SFI'd 350
Transmission: TKO 500
Axle/Gears: 9-bolt w/ 3.23's
---
Last edited by dimented24x7; 08-09-2004 at

01:54 AM

.
09-20-2004, 10:56 PM
Moderator
Join Date: Jan 2002
Location: Moorestown, NJ
Posts: 9,962
Car: 88 Camaro SC
Engine: SFI'd 350
Transmission: TKO 500
Axle/Gears: 9-bolt w/ 3.23's
Is my tbi speed limited?
Yes, the 89 and up ecms had it set in various forms. the speeds are listed here:
https://www.thirdgen.org/techbb2/sho...hreadid=260438
How about a rev limiter?
No. There is nothing to limit the revs, but a patch is available to do so. See the 'patch method demo' on the DIY-Prom board.
Thread
Thread Starter
Forum
Replies
Last Post