About LS1, LT1, TPI and swaps in general
02-14-2002, 01:33 AM
Suspended
Join Date: Jul 1999
Location: Other side of the paper fence
Posts: 10,197
Car: Race car
Engine: Internal Combustion
Transmission: Static
About LS1, LT1, TPI and swaps in general
---
LS1 swap you say? Do a search for LS1on this board and/or follow these links:
http://www.fbody.com/members/LS1IROCZ1/
http://www.geocities.com/ls1montecarloss/
Also try this site for information and even parts:
http://www.speartech.com
LT1 swap you say? Try these posts:
https://www.thirdgen.org/techbb2/sho...threadid=55526
https://www.thirdgen.org/techbb2/sho...threadid=55763
https://www.thirdgen.org/forums/engi...questions.html
Theres a few people here who have done the LS1 and LT1 swap, so if you have questions you should be able to get some good answers.
TPI swap you say? I'm not even going to go there. Its actually not a hard swap, you just need the intake, sensors, wiring, ecm, fuel stuff, and you are pretty much set. The most critical part of a TPI swap, or almost any swap in general, is making sure you get ALL of the parts for the swap off the donor car. Having to piece together a setup will just nickel and dime you to death. A search is probably going to yield 1000's of posts, so I'd suggest a specific question or concern.
About all of the engine size/magic combo questions:
There is no magic combo. Why do you think so many different manufacturers keep trying different things? They have quite a bit of funding for development, so don't sell the factories short, Ford included. And yet almost year after year there is a different size engine out there better than the last. The improvement isn't some magical bore/stroke/rod/head combination but rather a mix of improved technology and parts combined with well/better matched parts. So if you want to ask if a 283 or 302 or 305 or 307 or 327 or 377 or 348 or whatever engine size you happen to come up with is a 'good' combo, of course it is. Is it better than any other? I'd say the best is the one with the correctly matched parts and the most cubic inches. Period. Want some solid proof? Take a look at racing. In just about every division/group/form of racing there is some sort of limit on cubic inches, usually with penalties for forced induction. Take a good look, and tell me that any of those teams are not constantly bouncing off the limit of cubes that the rules allow. They are not selling themselves short by building a 305 when they are allowed to run 350CI. There is a reason for that you know. Keep in mind that if you want to build that 302, 305, or 327 as opposed to the common 350, that is your choice. However, don't let anyone fool you into thinking that the 350 will not make more power, because it will, every time. I constantly see arguments about dad's 302 or 327, or how someone's 305 will smoke someone else's 350... well sure, thats entirely possible. Stick those same parts on the 350 and as long as they are a relatively good match for the 350, the 350 is going to eat the smaller engine alive. There is a huge difference between being able to make a 305 competitive with a 350 and which one will put out more power. I could probably make an 800hp 305 if I really wanted to, and that would blow away probably any 350 here. Does that make the 305 better? Not hardly, take the same parts and put them on a 350 or 400, and just think about what that will do to the power output. I am not by any means telling you not to build that 305, 302, 327, 283, 348... go right ahead. Sometimes we just have to work with what we have. But if you have a choice, don't ignore some of the excellent advice I see here that suggests to use a 350 instead. Its a very solid foundation, and has been built so many times by so many people, it makes it virtually foolproof for those of us who haven't spent our entire lives building engines. Some food for thought...
And with that, merry swapping.
---
Last edited by five7kid; 12-14-2006 at

06:37 PM

.
03-04-2002, 03:43 AM
Supreme Member
Join Date: Jul 1999
Posts: 4,310
07-04-2002, 02:46 AM
Sorry I hope this dosnt sound stupid (it prolly will) but do we have any threads covering swapping in carbbed engines? I'm not sure how the electrical aspects of the swap would work out with regard to the ECU and stuff. I tried a search but I must not be in 'the zone' because I cant find it. Sorry.
Ok well I searched again and found a thread related to the ECU side of swapping from EFI to Carb:
https://www.thirdgen.org/techbb2/sho...highlight=Carb
Sorry again!! lol I feel dumb now.
---
Last edited by CrazyHawaiian; 07-04-2002 at

02:53 AM

.
07-06-2002, 03:00 PM
Supreme Member
Join Date: Jul 1999
Posts: 4,310
Originally posted by lykwiphyde
im sorry for my stupid question but whats the difference between the lt1 and the ls1? ive always wondered...


stevo.
LT1: was in the '92-'96 Corvette, '93-'97 Camaro and Firebirds. The LT1 is part of the next generation of small block chevy called Gen 2 (generation 2). This generation is slightly different than the original small block chevy design that came out in 1955. The Gen 2 engines (LT1, LT4, and L99) Have reverse flow cooling that sends radiator coolant to the heads first. The Gen 1 engines have it the opposite way. The other differance is having a gear driven water pump insted of a belt driven water pump that the gen 1 Engines have. The gear is driven off of the cam. Since the 4th generation f-bodies have such a super long winshield they couldn't leave the distributor in the back of the engine block. The gen 2 engines have the distributor in the front. The final thing that made the Gen 2 engines unique was the super short runner intake. This gave up 20 lbs. of torque from the long runner L98 it replaced with 55 HP. At the time 300HP was the new plateau that sports cars had to be at and GM had to bump the chevys 245HP in a hurry.
LS1: is a totaly different engine 100% redesigned from the old small block chevy v8s. Its found in the '97-present Corvettes and the '98-'03 Camaros and Firebird. It has a plastic/composite intake, indiviual coil packs insted of a distributor, evenly spaced inake and exaust ports. The combustion chambers all are lined up the same way unlike the Gen 1 and Gen 2 engines that seem more like 2 v4s welded put together.
LT1:
LS1: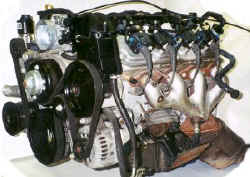 ---
Last edited by Tas; 07-06-2002 at

08:35 PM

.
07-08-2002, 11:59 AM
Supreme Member
Join Date: Jan 2001
Location: Surrey, BC
Posts: 4,415
Here's a little information about swapping the new 4200 Vortec inline six that I pulled from Hot Rod (August 2002)

The height of this block is 32.62", which will probably require some sort of custom hood.

Length is 32.86", making it roughly 3 inches longer than a V8. The 3 inches would probably not pose too big of a problem.

The inline six utilizes a 360* bellhousing, so you would need an adaptor to put the D-bolt TH700-R4 to it.

The electronics to operate the variable valve timing are very complicated, and would be a difficult swap until an aftermarket company like Painless steps in and clears a few things up.

The deep sump oil pan is a potential problem because of the F-Bodies crossmember. It may interfere.
08-10-2002, 07:47 PM
Senior Member
Join Date: Mar 2001
Location: Randleman,NC,USA
Posts: 868
Car: 91 Camaro RS Convertible
Engine: 385ci LT1 cnc ported heads big cam
Transmission: 4L60E automatic
Axle/Gears: 3.42 Zexel posi 7.5" rear
4L60E is the exact same dimensions and everything as 700R4 (4L60). The only real difference is the E is shifted via solenoids inside the valvebody by the computer. The corvette servo, boost valve and torque converters are compatible between the 2.
---
Last edited by brharris27370; 08-10-2002 at

07:51 PM

.
08-10-2002, 10:01 PM
Senior Member
Join Date: Dec 1999
Location: Annandale, VA
Posts: 949
Car: 1991 Formula Firebird
Engine: 2001 LS1 Modded
Transmission: 2001 4L60E Yank SS3600 TC
The mount for the 4L60E is further back. You will have to modify the cross member to fit.
08-18-2002, 11:55 AM
Member
Join Date: Aug 2002
Location: Middle Georgia
Posts: 138
I heard a rumor that there is an A/C compressor relocation bracket for use when doing an LT1 swap. Does anyone know if such an animal exists, and if so where can you buy it? Is it aftermarket or GM from another body style vehicle?
09-06-2002, 09:00 AM
Member
Join Date: May 2000
Location: FL
Posts: 215
Pros and Cons of LS1 motors (and cars)
Anyone going with the LS1 engine try to get a 2002 engine if possible. I currently own a 2002 TA (293hp/313ft-lb torque at rear wheels totally stock w/ 2500 miles on it) and it does have the LS6 intake manifold on it. This is a $500 part if you decide to change it on say a 98+ LS1 with the LS1 intake. It also flows a lot better.
1) these new LS1 engines don't have that low bottem end torque like our old style L98 350's. If I'm runnng along in 1st at say 1000-1500 rpm and stomp on it it doesn't take off like my 1988 w/ the 350 does. My 1988 will light the tires up at 1000-1500 in 1st. These engines are made for high rpms and they like it. At 4000rpm is where mine will really set you back in your seat all the way to the cut-off at 6000 rpm. I recommend an aftermarket cam before you swap it in to get a little more low end. Basically if you think 4th gear is fine for getting around someone go to 3rd..the engine will take it and you will love the acceleration!
2) THe clutch in the 98+ f-bodys will NOT hold up very long. Mine is fine but I only have 3500 miles on the car. A lot of people have problems with these clutches and some of it to blame is on the hydraulics associated with the throwout bearing and clutch. Go to
www.ls1.com
and do a search for clutch. Found out that the 01 & 02 LS1's came with the LS6 (corvette Z06) clutch so they should hold up to a 360 rear wheel horsepower car but after that you may want to consider an upgraded clutch.
3) Be warned the 6-speeds are tricker than the 5-speed. It is easy to downshift from 5th to 2nd and essentially bend the pushrods or blow the motor before the rev limiter can kick in. I haven't done it but a lot of people have. The 6-speed is fun and get's great gas mileage and 3.73 gears are a good for this tranny. My stock 3.42's are good also and keep the motor at 4000+ during fast upshifts. 6th gear...don't even think about it until your at 55mph or above. 60mph = 1200rpm.
4) I am seriously considering a LS1 or a 383 w/ ACCEL TPI into my 88' TA soon. LS1 more so becasue I can get a used one with all the fuel injection, computer, etc where the 383 will not come with all the extras.
The LS1's do have a problem with piston slap when first cranked up in the mornings and slight valve noise but seems to go away after 2 minutes...some say their's don't go away! The rear-end in these cars....whine, rattle or click and my rear whines loud at 55-60 and 30-40. THey tried to fix it 3 times now along with a whole new rear end and the new one did the same thing. Oh the brake rotors warp very easily on the new f-body cars and mine are warping already also!
Overall these cars have a fw peoblems but they are some fast, nice f-body cars and love the high rpms! I would recommend going ahead and changing the stock LS1 cam to something different to give it that extra boost to put it ahead of the many stock LS1 f-body cars on the road right now. These motors are easy to hop up and a cam is an easy 30hp additive to the rear wheels on these cars. Next do some head work if you got the money left over.
---
Last edited by badbird88; 09-16-2002 at

03:48 PM

.
09-17-2002, 11:51 AM
Suspended
Join Date: Jul 1999
Location: Other side of the paper fence
Posts: 10,197
Car: Race car
Engine: Internal Combustion
Transmission: Static
The intention of this post was to give information, links, books, etc on swapping engines to help people and answer some common questions that come up repeatedly. It was not to ask questions, thats really what the board is for. This post is getting cluttered and less useful by the day, locking this and cleaning it up later. If you have specific questions, please ask on the board. Thanks.
12-14-2006, 06:39 PM
Moderator
Join Date: Mar 2000
Location: Littleton, CO USA
Posts: 43,126
Car: 82 Berlinetta/57 Bel Air
Engine: LS1/LQ4
Transmission: 4L60E/4L80E
Axle/Gears: 12B-3.73/9"-3.89
I've finally gotten around to cleaning this thread up a bit. If you'd like to add to it, PM me. Otherwise, you should be able to get most of your questions answered by following the links or posting on the forum.
Thread
Thread Starter
Forum
Replies
Last Post
Engine/Drivetrain/Suspension Wanted
Engine/Drivetrain/Suspension Parts for Sale